How has the Vietnam War affected the health of aging populations in Vietnam?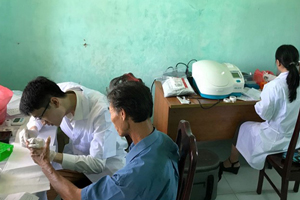 Associate professor of sociology and director of the Asia Center at the University of Utah, Kim Korinek is leading an international team of researchers to investigate through a longitudinal study. Funded by a grant from the National Institutes of Health/National Institute on Aging , the Vietnam Health and Aging Study is conducted by an interdisciplinary team of social scientists and health scientists from the University of Utah (UU), USA; Mount Saint Vincent University (MSVU), Canada; the National University of Singapore (NUS); University of Washington, Seattle, USA (UW); Hanoi Medical University (HMU), Vietnam; and the Institute of Family and Gender Studies (IFGS), Vietnam.
The study notes that while the Vietnam war exacted a well-documented severe toll on Vietnamese society, its enduring impacts have largely been examined from American soldiers' perspectives.
In ...Vietnam, where population aging and chronic disease burdens are rapidly rising, aging populations have seen a disproportionate share of armed conflict and related casualties. Yet, war's enduring impacts in these contexts remain greatly understudied
While there have been some studies of US Veterans that show that the long-term impacts of war do have consequences for aging populations, very few studies have been conducted and so on this topic,
knowledge is strikingly sparse and geographically narrow, deriving mostly from the West, and two groups in particular: US veterans and war refugees.
The Vietnam Health and Aging Study (VHAS), is in the process of better understanding mechanisms of association between diverse exposures to armed conflict during the Vietnam War and multiple dimensions of older adult health among survivors.
The first wave of data collection was conducted in 2018 and second wave of follow-up data collection is scheduled to take place in 2021. The VHAS was conducted in four northern Vietnamese districts that represent a spectrum of war exposure as indicated by intensity of bombings. Additionally, VHAS uses random sampling within gender and military service to permit unique gender-specific analyses of military service, trauma exposure and health.
The VHAS uses face-to-face interviews in which survivors elaborate their war and military service experiences; warzone stressors; and multiple dimensions of health such as chronic disease, functional limitation, disability, health behaviors, cognition and psychological health.
In addition, biomarker data is also collected so that the data includes anthropometric and functional tests such as grip strength, blood pressure, hair samples for cortisol assay, and capillary blood samples to assay C-reactive protein, cholesterol, HbA1c, and other markers of interest for cardiovascular and other disease risks and for testing the impact of early life stressors on later life health. Blood samples will also permit epigenetic analysis of biological aging.
The next phase of the study in progress will be funded via a grant from the National Institutes of Health.