UNIVERSITY OF UTAH SOCIOLOGY HOME TO "HIGHLY PRODUCTIVE SCHOLARS AND COMMITTED TEACHERS"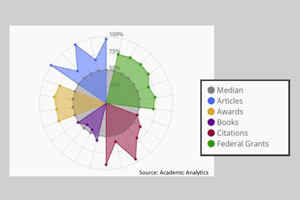 As part of a rigorous review of the University of Utah Sociology Department, external reviewers noted that:
"[t]he Sociology Department at the University of Utah is fortunate to have many highly productive scholars and committed teachers, across all ranks (non-tenure track, untenured faculty, tenured faculty). Faculty have been successful not only in publishing in many top tier journals, but also in receiving external funding for their research.
According to Academic Analytics, the Department is ranked second (of 201 departments) in articles per faculty and eighth in citations per faculty based on data from 2014-2017. It is above the median in faculty awards and federal grant dollars per faculty. Faculty have received four NIH R01 grants and other significant foundation grants. Fourteen tenure-line faculty and one career-line faculty have received grants in the past seven years. Despite its small size compared to many other sociology departments, this group is very productive."