Everett receives grant from NIH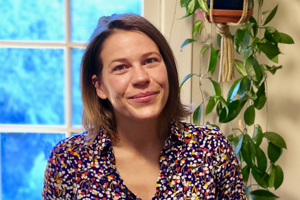 Assistant professor of sociology, Bethany Everett, has long had an interest in the field of sexual minority health, however, in 2012 she became an National Institutes of Health (NIH) Building Interdisciplinary Research Careers in Women's Health Scholar which introduced her to Obstetricians and Maternal-Fetal Medicine Doctors.
"I found that the same risk factors they were studying in order to improve maternal and infant health in the general population were often elevated among bisexual and lesbian women."
Everett noted that while there has been a fair amount of scholarly work that shows racial discrimination has strongly negative impacts for pregnant women and their infants,
"when I went to the literature, I noticed that no one has really taken a look to see if the same processes were true for lesbian and bisexual women, who report high rates of discrimination and victimization. There's also literature that shows public policy can impact maternal and infant health, for example, after the Civil Rights Act, black women's birth outcomes improved. We know that changes in LGBT-specific policies can improve the mental health of lesbian, gay and bisexual people, but my research will be the first to examine the impact on pregnant lesbian and bisexual women's birth outcomes."
The study will be funded via a grant from the National Institutes of Health.