The Sociologists Network Spring 2018
New Criminology B.A./B.S. to be Offered by the Sociology Department
We are very excited to announce the new BA/BS in Criminology being offered by the Department of Sociology starting in the Fall of 2018! The major will provide students with in-depth exposure to all facets of crime from a multidisciplinary perspective. Crime is an important topic at all levels—local, state, national, and international. Divisive issues relating to race and criminal justice, police brutality, prison overcrowding, sexual assault, terrorism, just to name a few, consistently adorn media headlines. Policies surrounding crime and criminal justice that affect individuals, families, and communities are implemented on a daily basis. A major in Criminology at the University of Utah will prepare students to deal with these critical issues. Topics explored will include empirical research on crime and criminal behavior, the tools and methods used to study and prevent crime, issues relating to criminal law, offenders, victims, and the agencies involved in the processing and sanctioning of juvenile and adult offenders. The Criminology Major will prepare students for careers in social and human service occupations related to criminal, juvenile, and social justice. It also provides an excellent foundation for graduate study in criminology, criminal justice, other social sciences, and law.
--Heather Melton, Associate Professor of Sociology and Director of Criminology
For more information, contact the Director of the Criminology Major, Dr. Heather Melton (heather.melton@soc.utah.edu) or the sociology advisor, Zachary Franzoni (Zachary.franzoni@soc.utah.edu).
Sociology Welcomes New Faculty Members

Sara Grineski, Ph.D.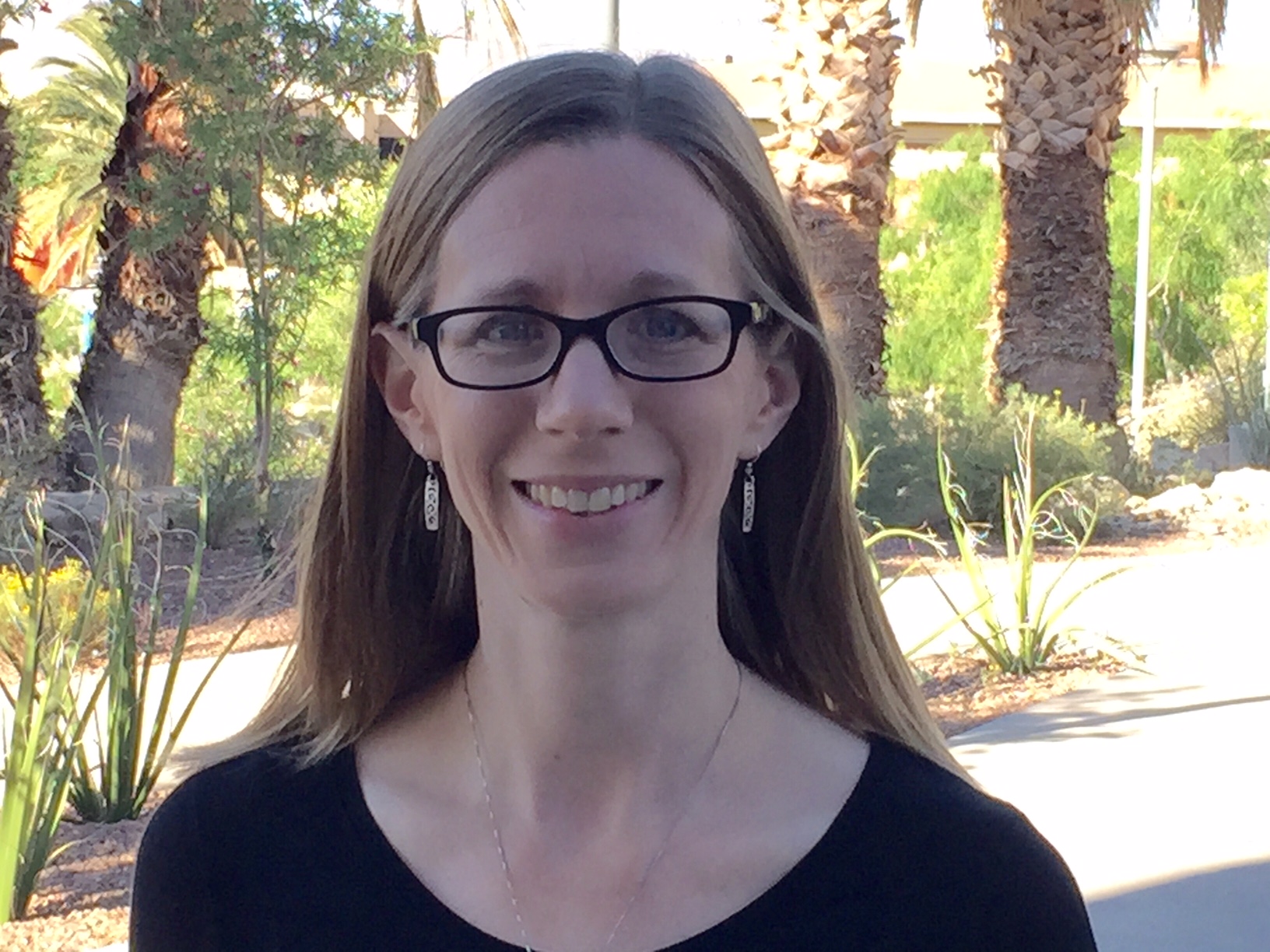 "I am a sociologist with training in geography who works on health and environment research. I use a variety of methods to address research questions of interest. My research expertise and contributions fall into several areas: Incorporating Health Outcomes into Environmental Justice Research; Intra-ethnic Inequalities; Advancing Environmental Justice Methods; Broadening the Scope of Environmental Justice Research; Socioenvironmental Disparities in Asthma; and Undergraduate Research and Mentoring."
Guangzhen Wu, Ph.D.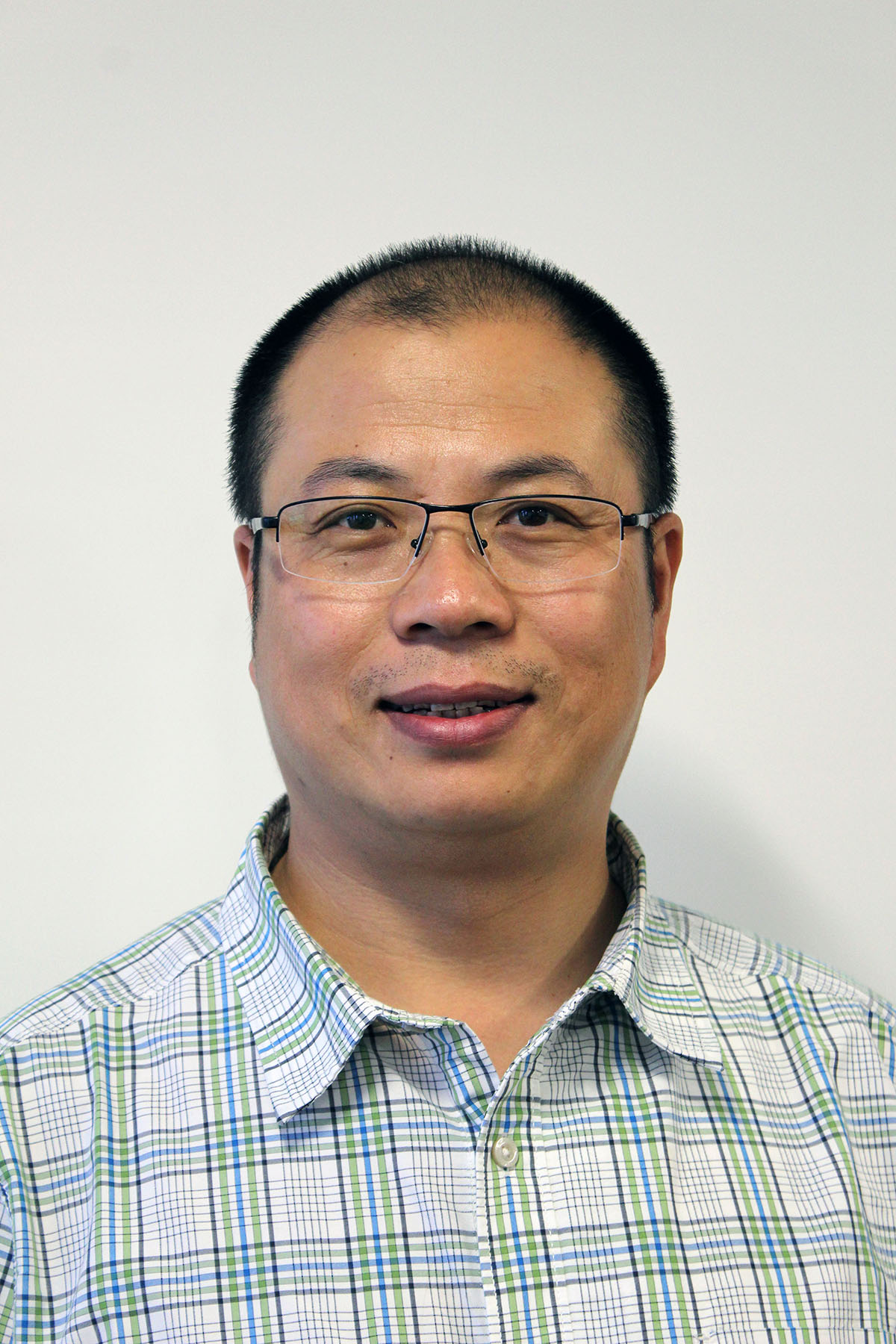 Guangzhen Wu, Ph.D. is an assistant professor of Criminology and Criminal Justice who joined the University of Utah in the fall of 2018. Dr. Wu earned his Ph.D. from Washington State University in 2018 and previously held a tenure position at the Criminal Investigation Police University of China. His research interests include comparative criminology/criminal justice, policing (international policing, police integrity, police stress and job satisfaction, and police-public relations), and the drug policy (the effects of marijuana legalization). He has taught multiple courses including Criminological Theory, Introduction to Criminal Justice, Statistics, and Research Methods.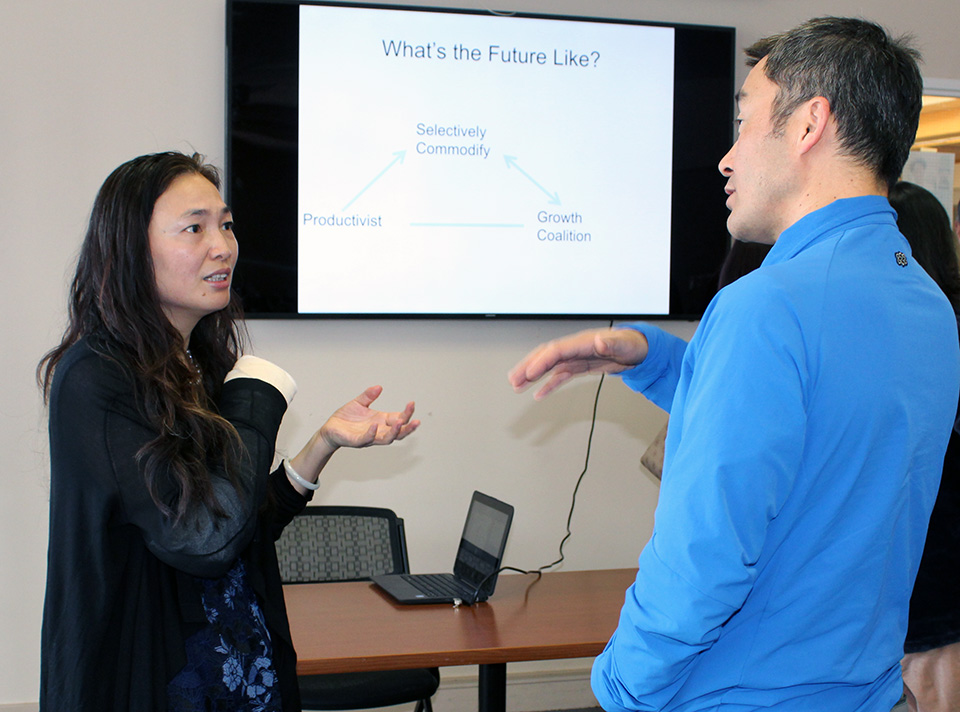 Returning Sociology Scholar Analyzes Housing Challenges and Government Responses in China
Xiulian Ma, became interested in sociology after her career as a journalist led her to want to have more impact on the social issues she reported. Having graduated from the University of Utah in 2009 has since been conducting research as Associate Professor at the Chinese Academy of Governance. At the Academy, she presents research to government officials to inform their work and decision-making. She is currently working with a team of researchers at Stanford as a Visiting Scholar with the Freeman Spogli Institute for International Studies.
On, March 30, 2018, she gave a talk at the University of Utah discussing housing policy in China and its trajectory over the past few decades. According to Ma, during the reform era, 1970's-2000s, China saw a shift beginning in 1979 away from planned economy distribution to re-commodification in housing. This departure, meant to create economic value, has brought about a whole new set of housing challenges in meeting housing needs as it increased housing stratification and housing poverty. In the present, the state economy has created some apparently ambitious plans to increase gifted units of housing for people's whose housing has been inadequate. While market units of housing are still considered by state officials to be important to economic stability, current policy is making wider spread housing provision more of a priority. China faces challenges in the near future in achieving government stated goals of managing economic risks, alleviating poverty, and protecting the environment. Ma described policies designed to redevelop former urban shanty areas and provide housing for residents on other sites in cities. Other anti-poverty programs include a current effort to revitalize rural areas and provide more resources and infrastructure in villages.
The guest lecture was sponsored by Consortium for Research on Contemporary China and Asia
--Joanna Straughn, Staff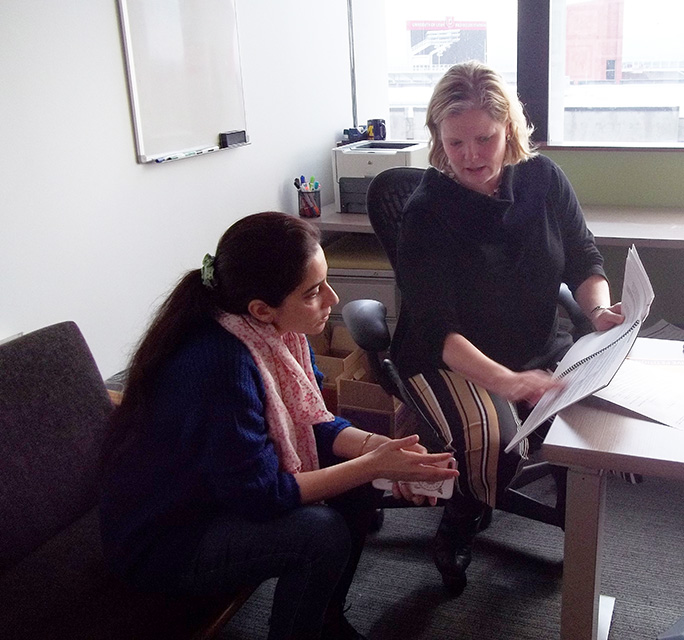 Prospective Graduate Student Visit Day
New Beginnings
In early March, the department of Sociology hosted nearly a dozen prospective graduate students who have been admitted to the PhD program. These visitors met with faculty and current grad students, as they explored whether the University of Utah is the right place for them to study. Each new cohort of graduate students brings new ideas and new collaborations. We hope to welcome many of them into our 2018 cohort of doctoral students. -- Asociate Professor Rebecca Utz, Director of Graduate Studies
"...the beginning is where the end gets born."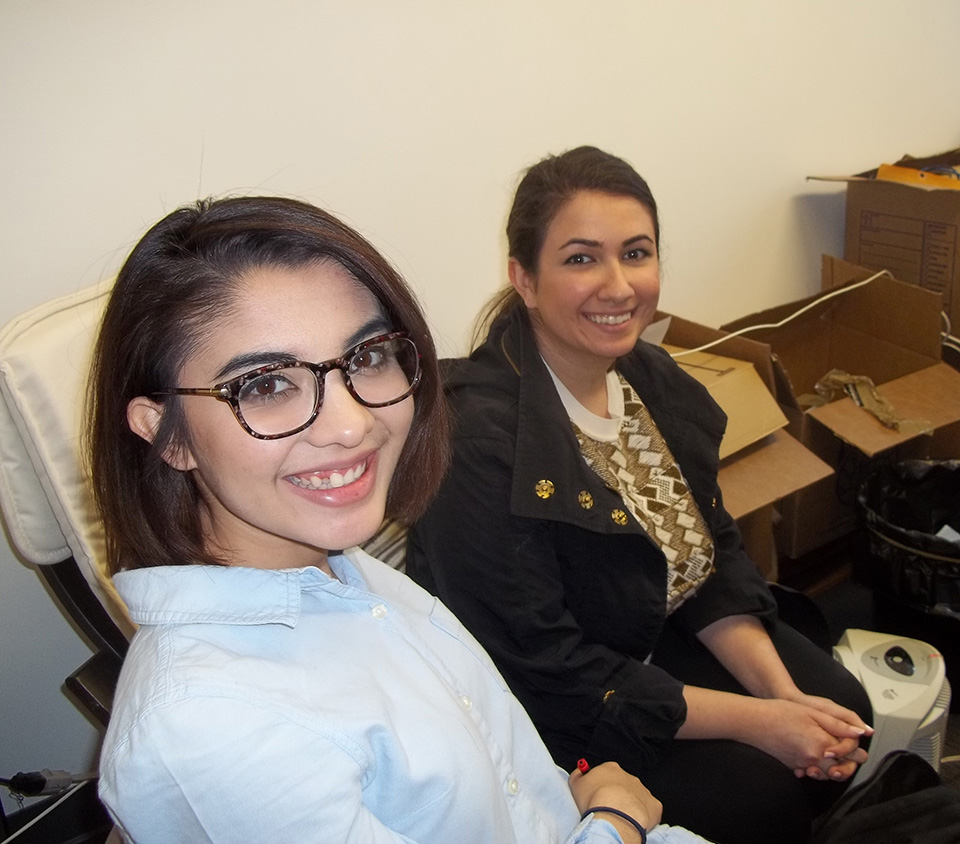 A Successful Dissertation Defense Marks the End of a Journey of Both Personal and Scholarly Discovery
The Finish Line
After a number of years studying and developing their ideas, our graduate students come to the final milestone of the degree – the dissertation. It is an independent research project, where the student does considerable analysis and theorizing to understand a topic of her choice under the close supervision and mentorship of faculty advisors.
The sociology department is pleased to recognize the completion of the dissertation and the conferral of the PhD degree for a number of students during 2017-2018. Amanda Bertana observed the social effects on communities in Fiji who faced environmentally induced migration. Jianmei Hao explored the interactions of industrial development and globalization in China with environmental outcomes.
Yvette Young described the employment experiences and struggles of refugees in Utah. Jon Stevens analyzed spatial and income polarizations in U.S. cities. Kyl Myers studied contraception practices and preferences among incarcerated women. Anita Pascoe looked at shared decision making practices within palliative care teams in a major health care system.
We're proud to have been part of these collaborative journeys and to have enabled our students to deepen their interests, skills and reach their goals. Having written a completed dissertation marks the end of graduate training and professional development, yet it is also the beginning of an exciting future academic career.
--Associate Professor and Director of Graduate Studies, Rebecca Utz
Sociology and U:

Performance Art on Race, Class, and Gender
On September 27, 2017 the Sociology Department held a performance to benefit sociology students at the Salt Lake Acting Company. The performance featured a collection of song, storytelling and spoken word. Each performance spoke to life across experiences of marginalization and pain as well as the challenges and joys of coming to gether as a community.
Peformers included actors/speakers Anne CullimoreDecker and Janice Brooks, and poets Saia Langi and Jared Martinez.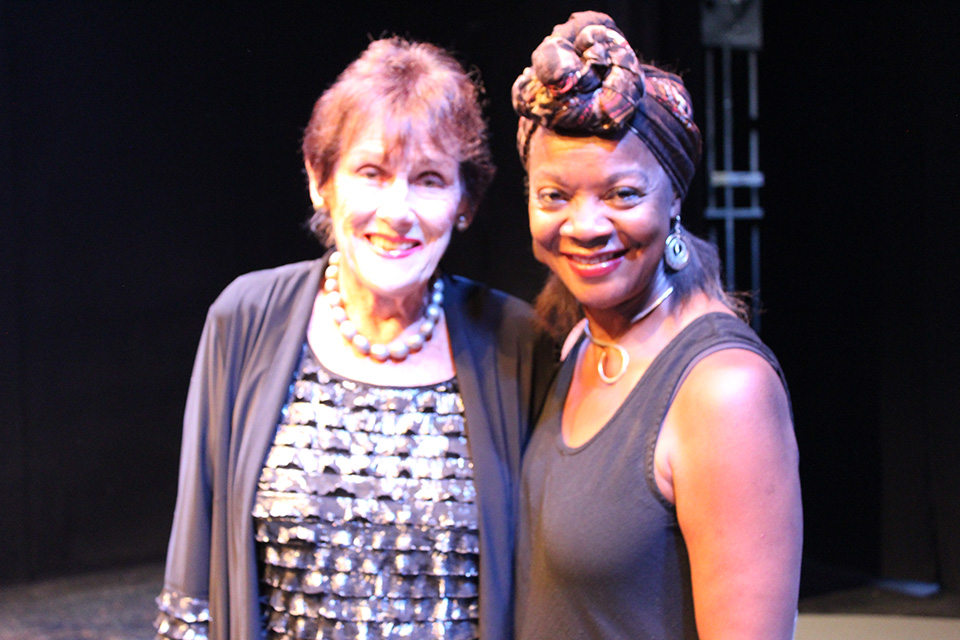 The Sociology Department in partnership with community organizations like the Somos Foundation provide scholarships to students who might not otherwise be able to attend university.
The Sociology Department is committed to students. We strive to provide signature experiences of the University of Utah to a diverse student population.
Anne Cullimore Decker and Janice Brooks
Sociology also thrives in part due to the students who expend thought and effort contributing service to the department.
"I've had so many wonderful students," says Associate ProfessorTheresa Martinez, "Luis Novoa is a former student and TA who is close to graduating. He is an amazing scholar activist who is committed to the Latinx community and all struggling communities. He is a song writer and composer.
Shauna Porter is a current student and former TA. She's an excellent student who manages school work as a single-parent of 5 children. I can't say enough about her academic work and her ability to organize a full schedule.
Amerique Phillips is one of my current students. She's an amazing student and active in BSU—organizing high school conferences for African American students. She is going to be a TA."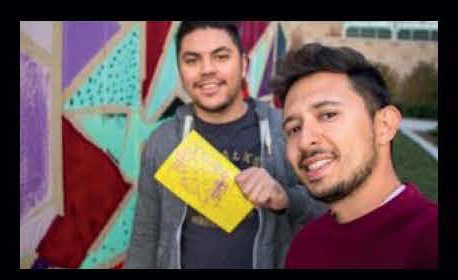 Contributions to the Sociology Department enable us to sustain our mission to provide students with a solid foundation in sociological theory and research that enables them to think analytically, communicate clearly, question critically, and engage actively and productively with society. Sociology & U celebrates student achievement, surmounting barriers, and the community that supports our students. Saia Langi and Jared Martinez
Sociology & U: Reconnect with Sociology

Left to right: Warren Jenkins, Autumn Barney, Luis Novoa
On Thursday, April 19th, Sociology & U: Reconnect with Sociology brought together students, faculty, and sociology alums to reconnect and encourage involvement with and investment in our students and our department. The event was an unqualified success, with several sociology alums excited to hear sociology student stories from chair of the Sociology Student Advisory Committee, Autumn Barney, as well as dedicated students, Luis Novoa, and Warren Jenkins—featured student speakers. In addition, sociology faculty were in attendance to answer questions about the department, including Ming Wen, Claudia Geist, Brett Clark, Lazarus Adua, and Heather Melton.

Left to right: Heather Melton, Ming Wen, Claudia Geist, Brett Clark, Autumn Barney, Lazarus Adua, Luis Novoa
Warren Jenkins, a recent graduate from the U of U department of Sociology, shared how his time at the U has irrevocably shaped his life, "When I began my undergraduate career as a Spanish and Latin American Studies double major, I had a vague but strong inclination that—whatever major or path I chose—I wanted to understand people better. This curiosity would eventually find me sitting in the Sociology advising office my Sophomore year thinking maybe this is the place for me.'"
In the last calendar year, Warren completed funded research through the U's UROP program, completed an Honors Thesis and with the help of his faculty mentor, Claudia Geist, revised it into a publishable paper.
"I presented on the same research at university-wide, state-wide, and international conferences and, finally, successfully applied to graduate school for Fall 2018. I'm honored to say that the community of education here within our department allowed me to earn acceptance from several top-ranked PhD Sociology programs across the nation. I credit this to the quality of mentorship and the support for undergrads that the university provides. My research began as simply a flicker of an idea, but the moment I brought that idea to light, a whole network of capable faculty and staff supported me and helped me make my goals a reality."
--Theresa Martinez, Associate Professor and Joanna Straughn, Staff
How can I help?
College Factual Includes University of Utah Sociology in Top Rankings
College Factual ranked University of Utah as a top ranking program for sociology in 2017.
College Factual ranks programs offered by 4-year U.S. Colleges and Universities and has recently updated their 2017 rankings. University of Utah's sociology program was ranked 45 out of 524 nationwide. This makes the U of U one of the top programs in the U.S. to study sociology; placing it in the top 10% of U.S. sociology programs.

U of U's Sociology Program Earns High Ranking Nationwide and in Utah for 2017 University of Utah's sociology program has also been ranked 1 out of 5 in the state of Utah. This makes the sociology program at the University of Utah the best in the state.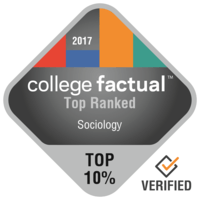 www.collegefactual.com/colleges/university-of-utah/rankings/
Sociology Spotlight
Claudia Geist, Ph.D. Assistant Professor of Sociology is the winner of the 2017-2018 College of Social and Behavioral Science Superior Teaching Award.
Frank Page, Adjunct Assistant Professor of Sociology has been invited to deliver the George Herbert Mead Lecture at the Society for the Study of Symbolic Interaction (SSSI) in the National Communication Association (NCA). The George Herbert Mead Lecture will be presented in the 2018 NCA Convention, November 8-11, at Hilton Salt Lake City, in Salt Lake City, UT.
Alla Chernenko, Ph.D. candidate, was awardedt he Graduate Research Fellowship from the University of Utah Graduate School.
Jazmine Hurley, undergraduate student, has been selected for the Parent Fund Undergraduate Research Opportunities Program Scholar for 2017-2018 for her project entitled "Evaluation of Intimate Partner Violence Curriculum in Residency Training Programs" with Professor Akiko Kamimura.