Current RA/TA Opportunities
All students admitted to the Ph.D. program will be offered a "teaching assistant" or "research assistant" position commensurate with their skills and interests. Specific work assignments are done prior to the start of fall semester with input from faculty mentors.
Prior to submitting an application to the graduate program, we strongly recommend that applicants review the profiles of all core faculty to see how your research interests align with the ongoing projects of faculty members. Applicants are encouraged to mention these alignments, as well as interest in the specific research opportunities mentioned below, in the "personal statement" of the application.
These are just some of the research opportunities that may be available to current incoming students:
Assistant Professor Bethany Everett is looking for students with interests in sexual and reproductive health, including family planning and maternal health.
Her current research projects focus on
sexual minority women preferences and attitudes surrounding contraception use
sexual orientation disparities in maternal, infant, and child health
exploring the impact of LGBT-specific policies on sexual minority women's health
documenting the benefits accrued to men via women's engagement in family planning methods
Dr. Everett has extensive experience working with multiple large data sets and is currently involved in qualitative data collection. She has extensive experience working in interdisciplinary teams and is excited about incorporating graduate students into her research projects.
Associate Professor Rebecca Utz is looking for students with interests in how individuals and families interpret their own health risks and cope with health-related transitions that occur during mid and later life.
Her current research projects are related to
the informal caregiving that is required after a major diagnosis
the bereavement that follows a family member's death
the admission or discharge of a patient from hospice
the benefits choices and retirement savings behaviors of persons based on their and their family members' health risks
This research is primarily quantitative, using both large population-based datasets, as well as smaller clinical samples using randomized experimental designs. Professor Utz is a respected teacher and mentor, willing and interested in working with students who have interests in the health-related transitions that occur to individuals and families throughout the life course.
Professor Sara Grineski is looking for students interested in working on an interdisciplinary research team studying air quality and its socially and geographically uneven effects on children's health.
Potential projects that the student could contribute to include
environmental injustices in exposure to air pollution and other hazards at US elementary schools
social vulnerability and environmental injustice after Hurricane Harvey in Houston
the effects of air pollution on children's academic performance and socioemotional health, including unequal impacts by race/class/gender and identification of protective factors (e.g., reduced social stress).
The student will gain training in scholarly writing, data management, and quantitative data analysis skills.
Assistant Professor Daniel Adkins is looking for quantitatively oriented students interested in pursuing research at the intersection of the social and biological sciences.
His research, broadly quantitative and interdisciplinary, integrates psychosocial stress perspectives with biomedical big data to map how social experiences interact with human biology to influence downstream health and behavior. Current research areas include
longitudinal modeling of health outcomes
examining how environmental adversity biologically embeds to impact distal health and behavior outcomes
applying econometric and psychometric methods to strengthen statistical power and causal inference in epi/genomic studies
developing machine learning predictive algorithms using a combination of social indicators and biomedical big data (e.g., electronic health records; genomic sequence data).
University of Utah Seeking Ph.D. Applications from Caregiving Scholars
Multi-Year RA Position Available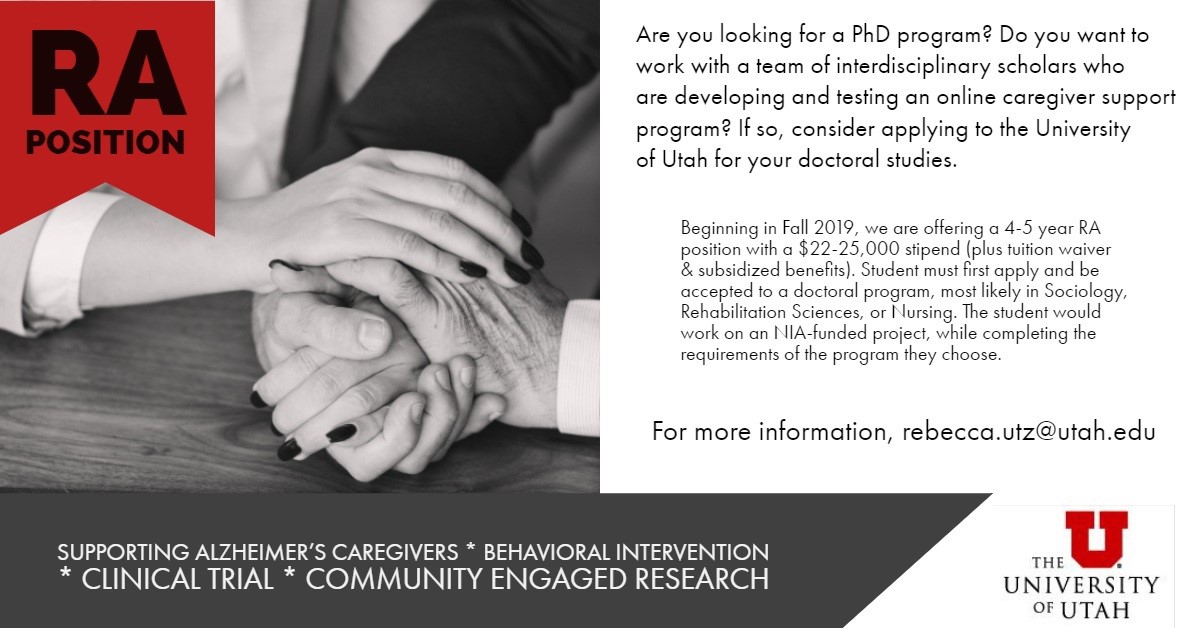 University of Utah Department of Sociology is looking to recruit a new doctoral student interested in studying family, health and caregiving. During admission review, interested students would be considered for a 4-5 year RA position funded by an NIA research grant, with a $22-25,000 stipend plus tuition waiver and subsidized benefit.
The RA would work closely with an interdisciplinary team of mentors (including PI Rebecca Utz), while completing the requirements of the sociology Ph.D. program at the University of Utah.
Visit the Ph.D. program in sociology page to learn more about our program at the University of Utah. For more information about this specific research position, contact rebecca.utz@utah.edu.